Greetings from all of us at Infozone!
Published 20 December 2017/Blog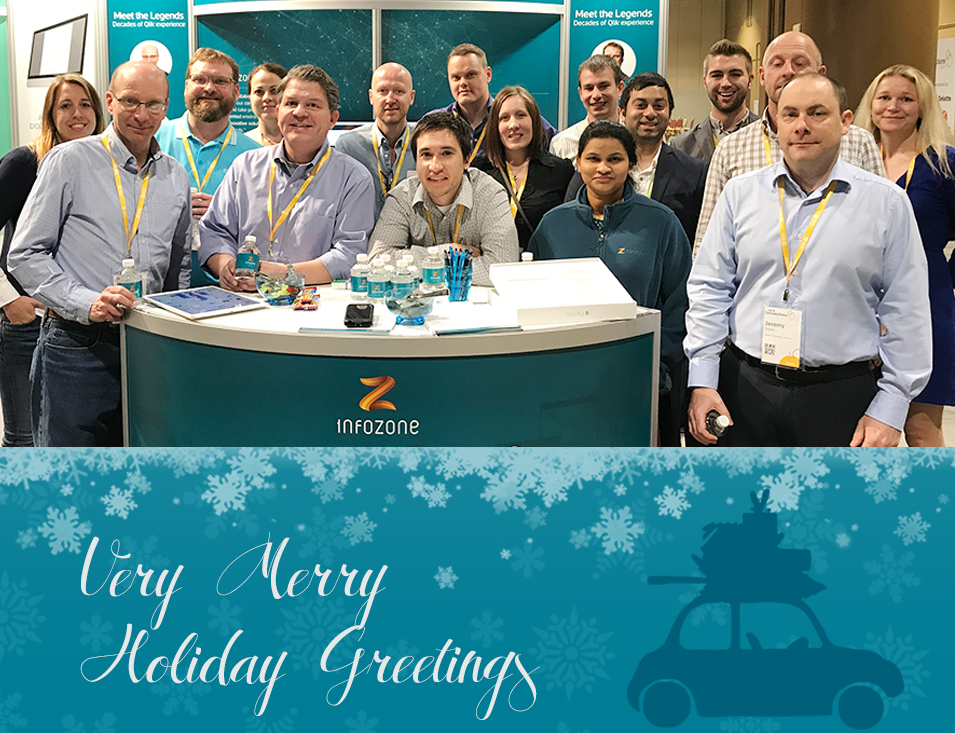 This past year has been a very busy one for us but it has also offered a lot of exciting and fun activities. We would like to thank all of our colleagues, partners, customers, friends, and families for making this a great year and wish you all a Merry Christmas and a Happy New Year. In this post, we have summarized a few of the things we have been busy with this year and our plans to make 2018 even better.
CUSTOMER UPDATES
Our consultants were quite busy this year working on a wide range of projects during a record year for our consulting business. We successfully designed and implemented multiple Qlik Sense / HTML Mashup solutions, we helped to navigate the treacherous waters of NPrinting development, we designed and helped our customers deliver iPad based analysis, and we oversaw many QlikView version 12 upgrades. During all this, we were able to achieve five additional Qlik certifications for Sense and Server. This brings our total certifications in the US to over 20.
GIVE BACK INITIATIVE
One of the things I am most proud of is Infozone's commitment this year to give back to our local communities. All of our team members were encouraged and supported to volunteer at a local organization of their choice. The response within the Company was overwhelming and many people did multiple projects. Speaking for myself, it was incredibly rewarding to give back in some small way when most of us have been so blessed. It can also be addicting. We will continue to add to this program and expand it over the coming years.
QONNECTIONS
We had a great Qonnections conference this year and Infozone was well represented by over 15 attendees. There was good interest at our booth as we met a lot of old friends and new. We heard from Qlik about major enhancements, including a certification program for extensions, Augmented Intelligence vs. Artificial Intelligence, and Qlik Sense Offline. We also found time to have some productive meetings with current and former Qlik executives.
Just prior to Qonnections, the Infozone members joined together for some well-deserved relaxation and team building. We kayaked the rivers around Cocoa Beach and soaked up some Florida sun. It can be challenging sometimes to work in a Company that is spread out, so it is always good to get together in person to share our experiences and have some fun.
PARTNERSHIPS
We are enhancing our partnership with Qlik, and have achieved our first specialization ranking. Infozone is now a specialized Qlik partner in Pharmaceuticals & Biotech. Infozone has also signed a new partnership with TimeXtender and we are gearing up for our first delivery. We are pursuing a number of other strategic partnerships to better serve our customers by offering them a wider range of products and services.
NEW TEAM MEMBERS
We welcomed 4 new team members to the Infozone family this year and they are all contributing to our customer's success. Infozone continues to expand and grow our people and skill sets – all in the spirit of service and cooperation with our customers.
WHAT'S COMING FOR 2018
We have exciting plans for next year, including a new marketing initiative, a global Infozone Company Summit in Prague, Czech Republic, Qonnections presentations, new partnerships, and of course, steady growth in our consulting team. We will add some new skills and offerings as we continue to address our customer's evolving needs for Better Business Intelligence – by Design.
WE WOULD LIKE TO WISH YOU ALL A MERRY CHRISTMAS AND A HAPPY NEW YEAR!
PHIL BISHOP, PRESIDENT INFOZONE INTELLIGENCE LLC