Holiday Greetings from Infozone!
Published 20 December 2018/Blog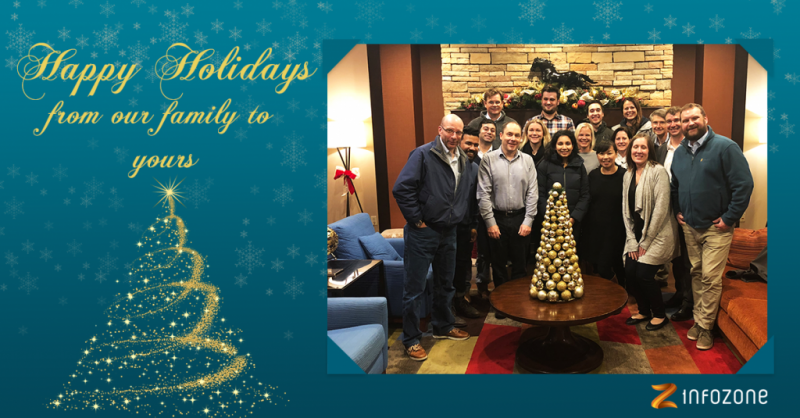 It has been another busy year for us at Infozone. We all have worked very hard, but also took opportunities to connect and have some fun along the way. Of course, none of this would be possible without the support of our fantastic customers, partners, friends and families. A special call out to all our social media followers, including the record number we added during the year. I'd like to take this opportunity to wish you all a joyous Holiday Season and a Happy New Year. We have summarized a few of the things we have been working on this year and some of our plans as we look ahead to 2019.
Customer and Project Updates
Our award-winning Design Team and development consultants continued to deliver outstanding service and products to our customers during the year. Along with the usual QlikView and Qlik Sense projects, we saw interest from our customers in advanced data modeling, extreme performance tuning (including in Japanese), and native Qlik Sense with extensions. Our consulting team strives to stay ahead of the technology curve, not only with Qlik updates, but we also increased our investment in Tableau expertise, so we are positioned to help our customers with the best possible solution to fit their BI needs. Our employees added new certifications and we welcomed four additional members to our team.
One Infozone
We launched a global One Infozone initiative this year, including a resounding kick-off in Prague, Czech Republic, where we hosted over 60 team members from the US and Sweden. This initiative will further enable us to share our combined skills and knowledge and more seamlessly deliver the best service to all our customers, regardless of where they may be located throughout the world. As part of this program, we also sent selected team members to Stockholm and Chicago in order to increase cooperation and knowledge sharing across the Company.
This year, we also celebrated the five-year anniversary of Infozone Intelligence LLC here in the US and the eleventh-year anniversary of Infozone Group in Stockholm. Our US team members enjoyed a trip to Nashville, home of the Grand Ole Opry, in November to spend some time together and share ideas.
Giving Back
Building off the success of our Giving Back program in 2017, we expanded our community outreach during 2018 and formally included paid time off for all employees to participate in the volunteer activities of their choice in their local neighborhoods. We will continue to focus on expanding this program throughout 2019 to recognize and appreciate all we have been blessed with and to share some of that with our neighbors who may need a little help.
Qlik Qonnections and Data Revolution Tour
Once again, Infozone sponsored a booth at Qlik's worldwide user and partner conference in Orlando, FL during April. We learned about Qlik's latest technology advances and had an opportunity to connect with our customers and prospects to better understand their evolving needs. Infozone renewed its Qlik partner specialization in Pharmaceuticals & Biotech as we continue to focus our efforts on this industry and its unique requirements for BI. We also presented two customized Pharmaceutical breakout sessions during Qlik's Data Revolution tour in October. I'd like to extend a special thank you to our customers who joined us during these presentations to present their personal observations and suggestions to audiences in Chicago and Philadelphia.
Looking Ahead
2019 Promises to be another exciting year for Infozone. We look forward to expanding our services and offerings within our focus area of the Pharmaceutical and Life Science industry. We are anticipating significant advances in technology for BI products that can help our customers achieve greater levels of user adoption and effectiveness. We will continue to support and develop our QlikView skills for our customers that are still on that platform. We are planning innovative new offerings for smaller Pharma organization so everyone can enjoy the benefits of fantastic BI, without having to invest in a large infrastructure. Finally, we will launch an Innovation Initiative designed to channel the creativity of our amazing consultants into tangible new products and services for our customers. Stay tuned to hear more about this in early 2019.
We would like to wish all of you a very happy and safe Holiday Season!
Phil Bishop, President Infozone Intelligence LLC