Qlik Life Sciences Webinar with Infozone & Vizlib
Published 30 August 2019/Events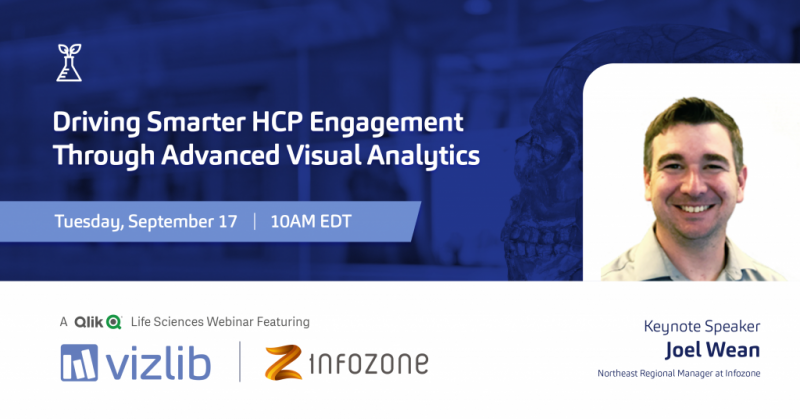 Qlik Life Sciences Webinar: Driving Smarter HCP Engagement through Advanced Visual Analytics, featuring Infozone & Vizlib
Need better tools to monitor your spend, understand your customer segments and measure patient response of your marketing efforts? A single, consolidated Qlik Sense app can give you better visibility into your data, even when your data flows from many different sources.
In this practical one-hour session, you'll learn how to deploy advanced visual analytics to help your organization drive smarter HCP engagement and lead with better-informed decisions. You'll hear from Infozone Intelligence, we are a Qlik Partner specializing in Pharmaceutical & Biotech analytics solutions, and Vizlib, a leading Qlik Sense extension product provider.
Things to look out for:
Example of how to visualize the patterns of prescribers
Showcase of underutilized visualization types that can bolster HCP engagement
Live demo of Vizlib extensions products for Qlik Sense, including Self-Service and Collaboration
Q&A will be open for the last 15 minutes of the event.
Date: Tuesday, September 17, 2019
Time: 10 am EDT
Speakers:
Jesse Cugliotta, Director of Industry Solutions for Life Sciences Qlik
Joe Warbington, Senior Director of Industry Solutions Vizlib
Joel Wean, Northeast Regional Manager Infozone