Season's Greetings from Infozone
Published 20 December 2019/Blog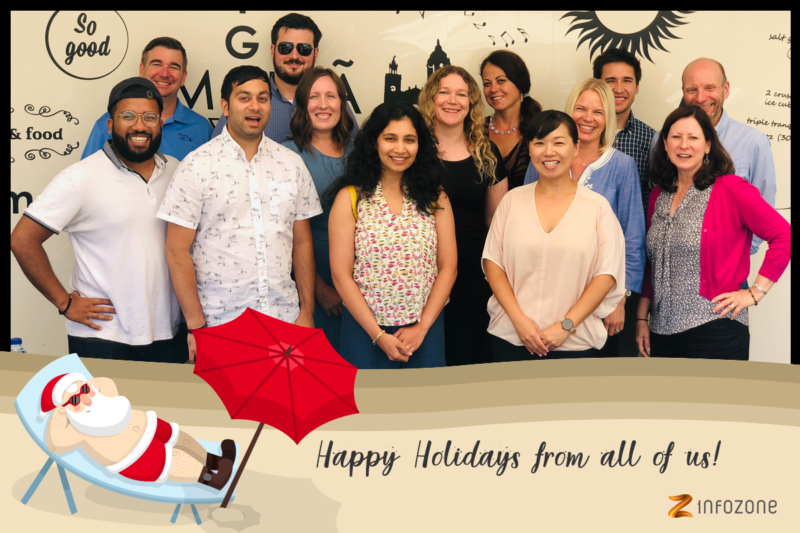 Another year has almost passed, and before taking some well-deserved days off, we have summarized some highlights of the year and a look ahead to 2020. We truly appreciate all our fantastic customers, partners, friends and families and looking forward to embarking on a new decennium, filled with opportunities together. I'd like to take this opportunity to wish you all a joyous Holiday Season and a Happy New Year.
Business Intelligence
We continue our focus on providing Business intelligence services, mainly for the pharmaceutical industry, to companies in North America. Qlik's worldwide conference in 2019 took place in Dallas, Texas and as a Qlik partner with specialization in Pharmaceuticals & Biotech Infozone sponsored a booth. It was a great time and we met with old and new industry colleagues and customer representatives, exchanging thoughts and ideas. We also had an opportunity getting up to speed on Qlik's latest technology advances and become inspired by all the fantastic solutions that are created in this great community. In the fall we attended the Qlik Data Revolution Tour events in Chicago and New York. When it comes to Tableau and Power BI we have added certifications and continuing to get more consultants trained as well as expanding our design services to encompass all tools.
One Infozone
As part of the global One Infozone initiative this year over 50 team members from the US and Sweden met up in September in Sitges, Spain. To meet in person on occasion strengthens our goal of seamlessly working together regardless of location and in that way provide the best service to our customers. We are stronger together as a team and there is so much knowledge and skills that each and every employee have to contribute. As part of this program, we are also continuing to send selected team members, who have done exceptionally great work on an exchange to Stockholm and Chicago to experience the culture in each country.
Giving Back
The Giving Back program that was started in 2017 has continued to provide wonderful opportunities for us to reflect on and appreciate what we have in giving back to our local communities. All employees are able to use paid time off to participate in volunteer activities of their choice in their neighborhoods. We will continue with this program throughout 2020.
Looking Ahead
In 2020 we look forward to welcoming even more team members that will enable us to deliver even more business intelligence services using a variety of software solutions and strengthening integration capabilities, ensuring we can meet each customer's needs. Our industry focus area remains Pharmaceutical and Life Science, we are working on more and new ways to showcase the different kinds of solutions and services we can provide, especially when it comes to design.
On a personal note I'm grateful to have had the opportunity to work with Phil Bishop these past few years and I'd like to extend my thanks to him and best wishes as he starts a new chapter in retirement. I'm also looking forward to continuing working closely with our Vice President, Shima Auzins, the entire Infozone team, our partners and last but not least – our great customers.
We would like to wish all of you a very happy Holiday Season!

Anna Hedberg, President Infozone Intelligence LLC