Our company values are who we are
Published 17 February 2021/Blog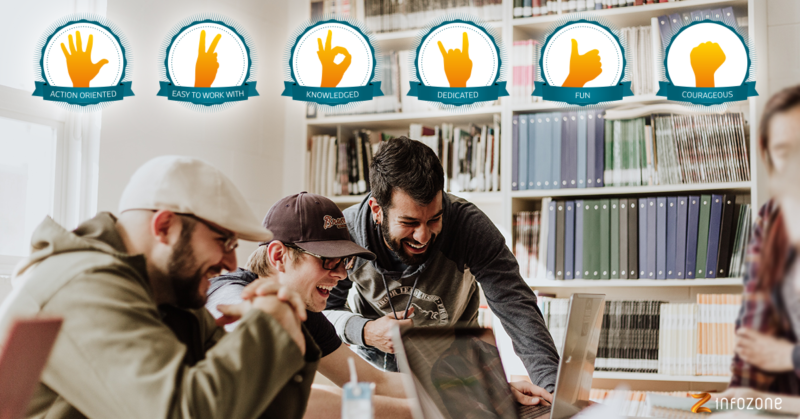 Fun, Easy to Work With, Knowledged, Courageous, Dedicated, Action Oriented – These are words describing who we are as a company. Our core values drive our work and how we build relationships with customers. We want to share what our values mean to us and our approach to building the type of company we would like to work with.
Our value statements are on the company website and we use them in presentations and proposals, but we may not have described in depth how they make their mark on Infozone. Today, we are a company that spans over two continents and we work closely with our colleagues in Sweden. We aim to be "One Infozone" and while our work may be focused on different business areas, our values are upheld by every team member at Infozone.
Why is it important to work with core values?
Our core values are the foundation of our corporate culture – our common approach to what we take on both internally and externally. We put effort into building great teams to deliver excellent customer service, and to foster innovation. We build our identity and corporate culture together and if one area does not function well, we implement changes for the company as a whole and for our customers and partners. Our monthly team meetings are themed around each value and this way we naturally remind ourselves about the meaning of them.
Our values are our identity
Our work is centered around six core values that set the foundation for our corporate culture:
Fun: Is there an alternative to having fun at work? Not for us, we work hard and at times it is challenging, but we care about our customers and peers and enjoy working together. We take pride in what we do, and we have fun with it.
Easy to work with: There are many complicated things around us, but we are not one of them. To work with and for us should always be an easy choice. You've got an issue? No problem. We listen, speak clearly and share our honest thoughts with you. There is no technobabble or hidden agendas with us. We want to be a partner who you always want to work with.
Knowledged: We dare to be proud of what we know and what we are good at. We are also open and honest with what is not our core capability. We share our knowledge and skills both internally as well as with customers and partners. Being a consulting organization, our knowledge base needs to be updated constantly with new technologies in the market. We encourage and support our team members to learn new skills to extend their competences to benefit our customers.
Courageous: Our experience and knowledge give us confidence in our capabilities which extends to courage to challenge ourselves with difficult problems to solve. We are humble but not afraid to think in new and creative ways. We are not afraid to question both ourselves and the tools we are working with. This is our relentless effort to always improve.
Dedicated: We are passionate about what we do. Therefore, don't be surprised if you meet motivated and dedicated team members at Infozone. We aim to resolve issues our customers are facing, and until our customers are happy with the resolution, we continue to dedicate ourselves to reach the final goal.
Action Oriented: After careful strategizing, we'd rather go for it without waiting for something to come to us. We take action to deliver results and real value. Waiting could be expensive and unexciting. Let us do it!
Do you think this sounds exciting and something you would like to be part of and grow together with us? Visit our Career page and find out about current opportunities.