Women In Technology
Published 8 March 2021/Blog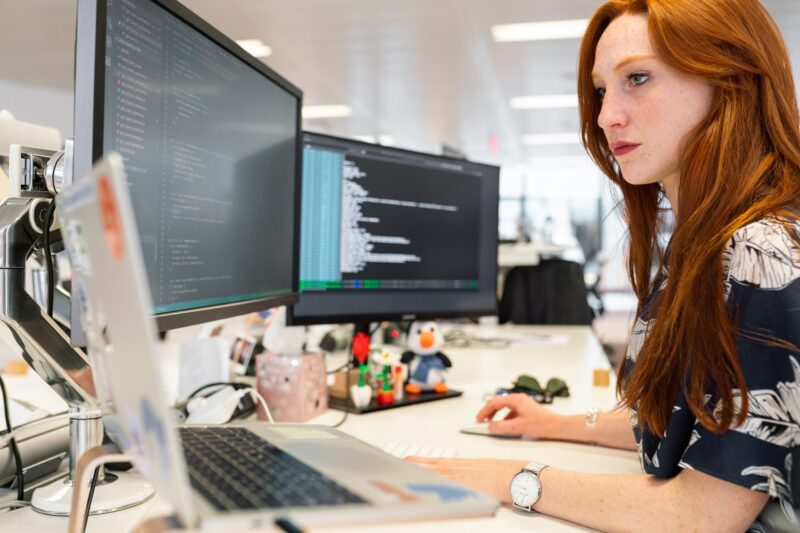 "Having more women in leadership roles will inspire other women", says Annie who interviewed women on her team about working in the tech industry.
When I first started looking into my 'tech' job after completing my master's degree, I was a little nervous about changing work environment and entering an industry that has been traditionally more male dominant. However, within the first month, I quickly learned that Infozone offers an incredibly welcoming and supportive culture where my voice and input not only is heard but is often sought after.
Being a newer member of the team, I received lots of training and guidance from both my colleagues and managers. The projects I have been on are challenging and rewarding, and I find myself working with a fun group of people who care about my professional success and future development.
As I reflect on my time so far at Infozone, I feel particularly fortunate to find a workplace where women are well-represented. Yet, I am aware that the data may tell a different story. According to data published by the Department of Labor Bureau of Labor Statistics, in 2019, women held 57% of professional occupation in the U.S. However, only 26% of professional computing positions are held by women. When it comes to leadership roles, women held only 18% of CIO positions in Top 1000 companies.
The number indicates that we still have work to do to mind the gender gap. Last week, I sat down with the women on my team to chat about our experiences in the tech industry, and what companies can do to bring more diversity in our field.
How has the tech industry changed and what does it mean for women?
The past decade has witnessed a rapid expansion of the tech industry. As technology becomes an integral part of our daily lives, tech companies are aware of the need to deliver relevant products and experience to their customers and doing so by having a team that represents the range of their customer base. Besides placing an emphasis on hiring a more diverse workforce, the tech industry now offers more non-technical roles for candidates outside of the traditional tech background. On the other hand, in today's world, almost every company is a "tech" company and have technical positions.
This means that there are now more opportunities for everyone in the tech industry and having a non-technical and/or diverse background may just be your strength. The key, one of our consultants said, is to "find the right company that value your skill set and what you bring to the table."
What can companies do to attract and encourage more women participation?
Having more women in leadership roles will inspire other women. When it comes to building cultures and values, companies should emphasize inclusivity and diversity. Our leaders expressed that they focus on everyone's background to provide the necessary support and training both personally and professionally. By doing so, they foster a culture that encourages transparency, collaboration and elevates our unique skills and different area of interests.
Lastly, companies should aim to create a work environment with more flexibility and understanding. Benefits such as paternity leave or flexible work arrangements demonstrate a commitment to support working parents.
Finally, some advice from the women on our team:
1. Talk to other people: explore your options and network and be willing to learn from others' stories.
2. Continue to educate yourself: The industry, the technology, and the tools are constantly changing, so be sure to embrace lifelong learning and be willing to learn new skills.
3. Find a support network: whether it is at work or outside of work, find a cohesive community to share your experiences, your struggles, and your successes.
Annie Nguyen, BI Consultant