Fit for purpose analytics: from QlikView to Qlik Sense
Published 30 March 2021/Blog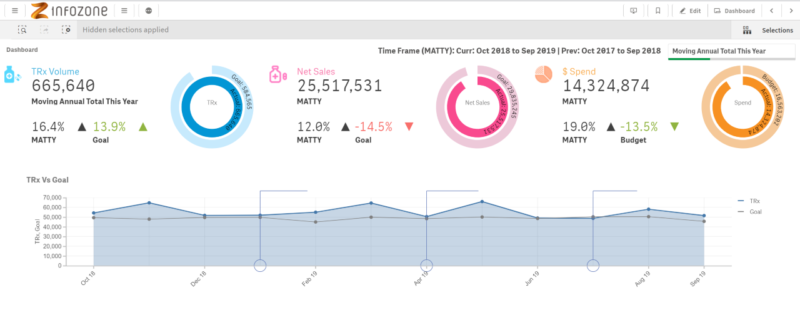 In this guest blog by Vizlib they bring up the topic of BI solutions that supports all type of users. Vizlib provides highly-customizable, easy-to-use value-added products for Qlik Sense.
To keep up with competitors and succeed in today's market economy, your business needs to take advantage of anything and everything about data. Without an analytics solution that suits how you do business, you could be left behind in the dust.
But it doesn't stop there. Successful analytics solutions should be easy to use, supporting all levels of data users. If you only have a select number of technical users working with data, then your analytics may not be fit for purpose.
To embrace a modern approach to BI, many companies are shifting from QlikView to Qlik Sense. Let's take a look at why the time is right to transform your data analytics.
QlikView – the origin story
When QlikView was first introduced more than 20 years ago, it quickly took the spotlight in the analytics market. QlikView is a powerful platform that allows developers to gather, explore and analyse complex data to create guided analytics experiences for end-users. It has been a stable and valuable analytics solution in many organisations, delivering accurate and reliable analysis to business users.
Recognising the strength of QlikView and the modern businesses needs such as augmented intelligence and self-services visualizations and exploration, Qlik introduced Qlik Sense in 2014. Qlik Sense drives a shift with a focus on data literacy and more ways to interact with data to support everyday business decisions.
Qlik Sense – the modern BI sequel
Qlik Sense is Qlik's next-generation platform. Not only is it easy to use, it's designed with the end-user in mind, catering to business users, and those with high-level skills.
Qlik Sense makes data more accessible in organisations through a simple user interface, drag and drop functionality and other UX improvements. With the upgrade to a familiar-looking style and layout of its menus, buttons and other components (much like a web-browser), users feel more comfortable exploring the program by themselves. And when they start experimenting with Sense, they soon take it to the next level, slicing and dicing data themselves!
The Qlik Sense platform supports and promotes self-service BI. The software functionality, responsive design, and other modern conveniences, such as embedded and augmented analytics capabilities, enable users to solve business problems anywhere, anytime!
Moving forward with fit-for-purpose analytics
It's time for organisations to change how they work with data. Qlik, a leader for the 11th year running in the 2021 Gartner Magic Quadrant for Analytics and BI, continually innovates solutions that modernise BI.
Infozone, our partner, helps businesses successfully evolve their Qlik analytics to keep pace. One way they help leaders approach the shift is through the Qlik Analytics Modernization Program (AMP). Here are their thoughts on using AMP to gently shift a business beyond QlikView.
Do you want to adopt next-generation analytics without disrupting your existing QlikView environment? That's exactly what the Qlik Analytics Modernization Program helps you do. Take the first steps toward unifying your analytics experience with QlikView and Qlik Sense. The program makes it easy for you to:
Drag-and-drop your data to create fully interactive analytics apps
Automatically get AI-generated insight suggestions
Share and co-author with your group or team in a governable environment
According to Infozone, more QlikView users are adopting a modern analytics platform with Qlik Sense. And they suggest a few ways AMP can help organisations embrace and benefit from next-generation BI:
Adopt Qlik Sense at your own pace
Expand your analytics possibilities by implementing new use cases and capabilities
Reduce the total cost of ownership (TCO) of your analytics solutions
Helping businesses shift to Qlik Sense in a way that's comfortable to them ensures they get the benefits of modern BI faster, even if they don't have highly technical skills in-house.
Now, let's explore how Infozone uses Qlik Sense to get the right insights quickly.
Simplifying pharmaceutical analytics with Qlik Sense + Vizlib
Infozone has more than 20 years' experience delivering BI solutions to leading global pharma companies. They've created a pharma marketing app in Qlik Sense that enables marketing teams to easily monitor their spend, understand their customer segments and measure patient response to their marketing efforts.
"Our pharma customers like the responsive design that is part of native Qlik Sense for mobile devices frequently used by sales reps, and also the powerful, governed self-service capabilities for home office users (analytics teams)," says Anna Hedberg, President Infozone Intelligence.
Their practical Qlik Sense apps demonstrate the power of data storytelling – showing data as a simple visual story. With the addition of Vizlib's Viztips, users get extra context on hover, without being overwhelmed with a flood of data or losing valuable dashboard real estate!
Viztips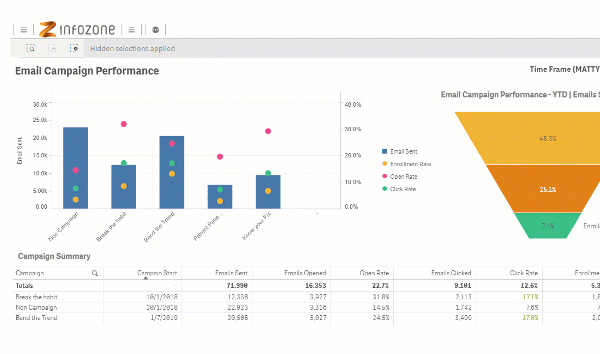 They can also explore data and easily create their own customised pharma sales and marketing reports, such as tracking the impact of a new pharma campaign using Vizlib Custom Report.
This intuitive Qlik Sense + Vizlib app makes the data message clear, engages all teams (and skill levels) and helps users uncover insights fast.  It is fit-for-purpose in a modern BI world.
Vizlib Custom Report
Data users of any skill level should be able to ask and answer their own business questions without relying on the IT or data science team. And Qlik Sense supports this self-service approach – empowering everyone to make smarter decisions and drive more business value.