TimeXtender is a winner in the BARC Data Management Survey 22
Published 3 November 2021/Blog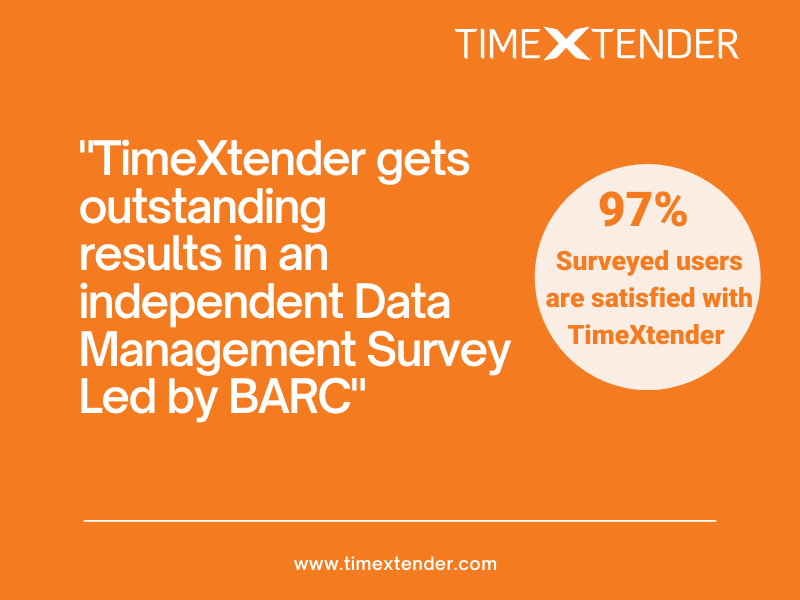 Our data management platform partner TimeXtender is praised in an independent data management survey led by BARC. Now in its third year, this research study is focused on the data management tools market. Let us tell you more.
The Business Application Research Center (BARC) is an analysis & consulting company for software that focuses on Decision Support, Analysis, Data Management, Enterprise Content Management (ECM), Customer Relationship Management (CRM) and Enterprise Resource Planning (ERP).
BARC research is primarily based on a major survey of 1,101 software users and consultants worldwide, and provides a wealth of user feedback on 20 of the leading data management solutions on the market today, including TimeXtender.
TimeXtender achieved consistently good ratings with two top rankings and three leading positions in this year's Data Management Survey. TimeXtender was placed above average in 14 of the 17 KPIs, including one maximum rating of 10/10 for Connectivity and a 9.3/10 in the Technical Capability KPI.
BARC has compiled the parts of the survey where TimeXtender is included and to take part of the results and read customer testimonials, click here.
Don't miss the article we published a while ago where we presented TimeXtender's eight steps for how you can work even more data-driven and go from a data warehouse to a modern data estate. You will find this article here in the following link.
Want to learn more about TimeXtender and their data management solutions? Do not hesitate to contact us for more information.
"A fantastic tool that can help a lot of companies to get control of their data and provide business users with a lot of value, fast!" – Data Engineer/Data Manager, IT