QlikWorld 2022 Conference
Published 26 May 2022/Blog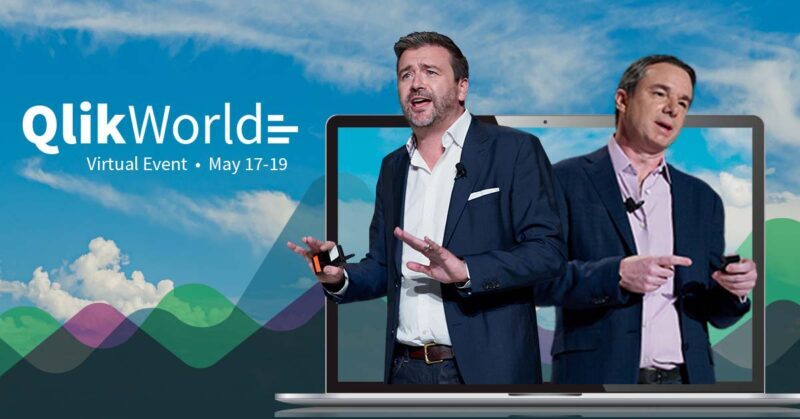 QlikWorld 2022 provided knowledge and best practices to lead with the industry's only end-to-end multi-cloud data platform built for Active Intelligence.
The online worldwide conference included several vision keynotes and a featured keynote from Astronaut & Cancer Survivor Hayley Arceneaux, product demonstrations and roadmap, Global Customer Transformation awards, and over 80 breakout sessions. QlikWorld brings together Qlik customers, partners, influencers, and data enthusiasts to share how Active Intelligence can create certainty in decision-making and transform their organizations.
During QlikWorld, we learned about Qlik's exciting product roadmap which contained information about Qlik AutoML ™ – their new machine learning abilities – and Qlik Forts™ – their new hybrid service which allows the benefits of SaaS no matter where the data lies.
Breakout Sessions
Many interesting tools and concepts were explored during the breakout sessions; however, one that we found particularly interesting was titled "Beyond the Dashboard: Making Analytics Actionable and Sticky". During this session, it was discussed and explored how to go beyond standard dashboarding for more reporting that is more actionable and prevalent through 4 means: Qlik Cloud, Augmented Analytics, Active Analytics, and Application Automation.
Qlik Cloud
Qlik Cloud allows for several points increasing action and stickiness to analytics. It has a 99% reduction in deployment time and instant innovation, increased self-service for business decisions through data, and a variety of built-in tools that compel timely action.
Augmented Analytics
Augmented analytics comes into play with several different services. Insight Advisor allows for automated insight generation to help provide information with the data without building yourself. Qlik AutoML is Qlik's latest service which allows for automated machine learning without any of the coding aspects and creates a space for advanced predictive analytics easily. Finally, Advanced Analytics Integration produces real-time data connections through 3rd party data science platforms through APIs.
Active Analytics
Active analytics was explored through 3 paths – Intelligent alerting, reporting service, and embedded analytics. Intelligent alerting provides a means to proactively monitor through alerts driven by data. Automated burst reporting expands the reach of analytics and eliminates repetitive tasks. Embedded analytics positions dashboards and information at key points in the decision-making process.
Application Automation
Application automation is a way to set up actions for the application workflow process throughout different points. With automation, you can set up alerts for a necessary task, it provides automated quality checks, and allows time and resources to focus on higher-level tasks.
More about ML and integrations
Qlik Sense and Amazon SageMaker: Bringing ML and BI together on AWS. This session provided an overview of how Amazon SageMaker; A Code-Free machine learning tool, could be integrated with Qlik Sense to create BI Applications from machine learning. Use cases covered ranged from Sales and Marketing, Finance and Accounting to Operation and Logistics. AWS Cloud could be then used jointly with Qlik Sense Cloud to keep everything on the Cloud.
Data Science with Qlik Sense SaaS and Microsoft AzureML. Similarly, this session provided insights into Microsoft's AzureML; a Machine Learning system as a cloud service and how that could be integrated into Qlik Sense. Combining Qlik with AzureML is as easy as connecting to the AzureML endpoints from Qliksense. Data Science best practices were also discussed.
Technology and Human Implications
This year's event also featured an expert panel discussion with Visionary Futurist and Neuroscientist Dr. Poppy Crum, Leading Expert in Robot Ethics Dr. Kate Darling and The Atlantic CEO and former Editor-in-Chief of WIRED Nicholas Thompson. They explored the complex relationship between technology, humans and society at large. The panel offered insightful perspectives on a wide range of topics, from implementing greater governmental controls onto the top data companies without stymieing innovation, to creating democratization of data, to resolving the misinformation war with greater initial account setup controls.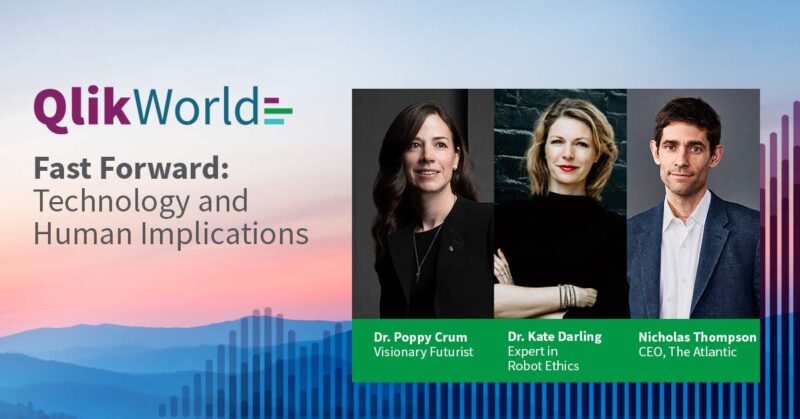 It's time to close the gaps between your data, insights and action. It's time to start making decisions with certainty. Join the upcoming QlikWorld Tour to see how Qlik's unique approach to data and analytics will give you confidence in your decision-making like never before.