Analytics, Delivered
Published 25 August 2022/Blog
What could you do if all the data and analytics you needed were already right at your fingertips?
Today's organizations depend on data and analytics. While enterprise business intelligence and analytics programs support data-based decision making, yet often companies don't recognize the value they expect from analytics investments.

Many companies try to increase analytic adoption by continuously creating more tools, reports, dashboards, and other assets, such as spreadsheets and PDFs. But this strategy of simply adding more to the environment does not address the adoption challenge – in fact, it increases complexity for both administrators in the BI and Analytics team and the end users.
Additionally, as more and more reports are created, the process of navigating through the volumes of reports in each analytics tool in order to find the right information when it's needed is often complicated and frustrating for end-users. A recent Gartner study found that 43% of users reported occasionally or frequently failing to notice important information because of too many applications or the volume of information. In the frustrating search to find and access business intelligence and analytics assets, business users often struggle with basic questions such as: How do I find the report I need? Which of these reports should I use? Who is the business owner that can help me?
Organizations need to enable their employees by delivering the analytics assets each person needs to do his or her job without the tedious process of discovery. The power of BI and analytics is only realized when people are empowered to use those resources in an analytics experience designed around the end-user.
This is the vision of ZenOptics: to redesign analytics experience in a way that increases consumption and use, ultimately driving analytics adoption, increasing end-user productivity, and optimizing the value of the analytics ecosystem. ZenOptics creates this experience by seamlessly connecting to an organization's data and analytics tools, applications, and network drives to bring all the reports, dashboards, spreadsheets, documents, PDFs, and more into a single, unified location.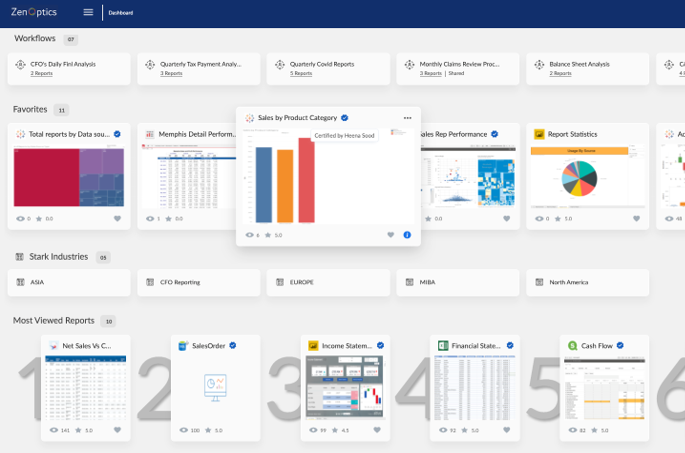 For the end user, this means that approved assets are organized and available in a central location to deliver the right information at the right time to support confident decision making. Additionally, users can subscribe to assets for increased awareness of newly available information, therefore reducing the time and effort spent to find and retrieve the data and analytics people need each day.
For data and analytics teams, ZenOptics establishes visibility across all enterprise tools and assets to increase adoption by understanding behavioral consumption patterns. This enables these teams to optimize their tools and create opportunities around consolidation, report rationalization, deduplication, and lifecycle management.
The result is an analytics environment that is optimized based on user needs and contains the relevant, appropriate assets for decision making. Organizations can now truly establish an analytics operating model that aligns their data strategy with the information strategy to ensure an environment that is full of valuable, usable assets and to empower informed decision making.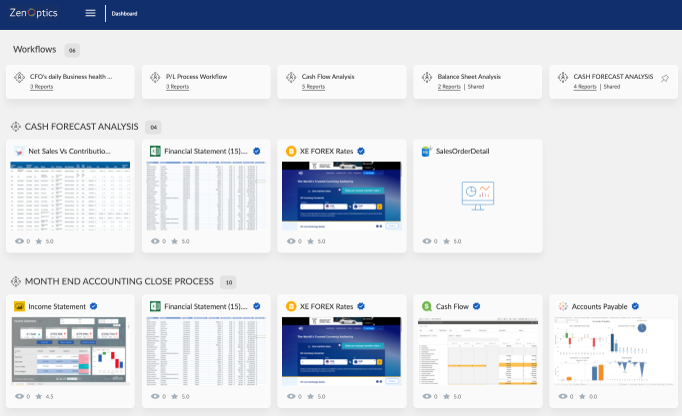 The ZenOptics Analytics Experience
Organizations across a variety of industries – including finance, health care, manufacturing, life sciences, and others – have realized the value of ZenOptics' unified analytics platform for their analytics assets to establish efficiency, consistency, and trust. Analytics leaders, administrators, business stewards, and end-users are empowered in their daily work by ZenOptics capabilities:
Supported business processes: Composed Workflows group sets of assets together for efficiency, consistency, and collaboration
Increased understanding: Each report, metric, KPI, and dashboard in ZenOptics is cataloged with its metadata to include supporting details and context
Established security and reduced risk: Users inherit underlying permissions to approved, certified assets – and can easily request access when needed
Optimized environment: Report statistics provide "analytics on analytics" to monitor adoption, provide lifecycle management of assets, and optimize TCO of analytics tools
Interactive insights: In the Analytics Workspace, users can interact with an asset, understand its context and details through metadata, see similar items, and subscribe to the asset for updates and collaborative interactions
The result is an analytics experience that delivers:
Trusted BI and analytics assets in a single location to support confident decision-making and analytics work
Increased adoption and use of analytics due to satisfied, enabled users
Cost savings and operational efficiencies, including time savings and consistent, streamlined access to information, and process optimization
Learn more on our services page or at ZenOptics.com