Data Empowerment
Published 27 October 2022/Blog
"In a business or any other entity, data is an asset that can be transformed into valuable information and insights." - Jonas Lundgren at InGenius.
What is Data Empowerment and why is it important?
Information adds value if you know how to utilize the data. Information about how certain processes are performing, how to improve them, or finding relations when combining various data to come to new conclusions and discoveries.
We are surrounded by data in any organization, and we just need to improve how to harvest and cultivate it into actionable items. Find facts, back up decisions with facts, and quickly find resolutions to business dilemmas.
Data Empowerment encourages high employee engagement. Empowering people to use data in gaining more insights about the business and their role in overall operations equates to strong people engagement. By giving people the right tools such as TimeXtender, Qlik, Power BI, etc., and direct access to harvest and use data assets to contribute to process improvements, problem-solving, forecasting, research, and discovery that directly affect the business bottom line – that is data empowerment.
In short, Data Empowerment is simply allowing and supporting people to become better and more agile business members of your team using data. It also means removing bottlenecks and roadblocks in an organization to allow this to happen. Data infrastructure, data sources, and BI tools must be readily available and set up to work toward giving access to data to employees without having them ask for it or wait for it.
Data silos and data access
Is your organization empowered with data or is it siloed between IT, other departments, and data users in an endless conflict of getting access to data and what tools to use? How is the speed of data turning into value within your organization? Then you're not alone and now is a good time to do something about it. In a recent study by BARC – Business Applications Research Center, an independent market analyst firm, they asked these two questions to people in a variety of different roles, industries, and company sizes.

The answers show that a majority of the population is very comfortable and content to work with the existing data they have to use for analysis. However, to some, even though Data Warehouses are in place, it does not solve the data silos problem.
Below are the top 8 selections of business and culture-related challenges resulting from data silos.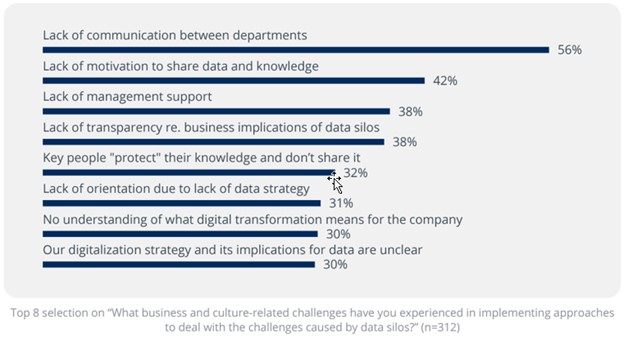 This data shows critical and challenging but not impossible issues to resolve towards becoming a data-empowered organization. I share many of these issues in my own experiences in several organizations. But what to do about it?
Technology Platforms
Technology has improved drastically in recent years, both in business intelligence but also in the technology to store and handle data. It used to be very technical and required a certain skill set to set up the infrastructure, which was costly, very manual, and time-consuming.
That is not the case anymore, business intelligence is now part of the Microsoft user package just like Excel has been for many years, Qlik with their Qlik Sense has become easy to use with drag-and-drop solutions. It has also become very affordable so that you can have tools for any day-to-day data user and not only for the so-called data experts in an organization. Unfortunately, many organizations creating a data warehouse, for instance, is still a technical and performance nightmare for IT and SQL wizards. But with the right tools such as the Data Estate Builder TimeXtender, which is now also dragged and drop and doesn't require much SQL programming skills, this corporate dilemma could be a thing of the past. As for expensive hardware and storage solutions, now we have many cloud environments and hybrid versions to pick from.
And that gives some insight into the other question of how the speed of data is turning into value within your organization. It has never been faster or easier to turn data into information that adds value. The people in organizations have never been so familiar with working with data and information and it will continue in that direction. It's a matter of evolution.
Define Business Needs
What should you do if you have not started yet? Well, you don't have to go for a big-bang solution anymore. Start small and begin from the business needs, you could create a smaller "Data Empowerment Team" with a variety of processes that deal with data in various ways within your company. Give them professional BI tools and training on how to use them. Set up direct access to data sources one way or another. There are already hundreds of connections available to various ERP tools, social media tools, and cloud tools available in Data Estate tools such as TimeXtender to load data.
Meanwhile here are some guiding points:
DEFINE YOUR GOAL IN TERMS OF DATA AND ANALYTICS MATURITY
DEFINE CURRENT AND FUTURE BUSINESS NEEDS
DESCRIBE THE CORE BUSINESS AND DATA PROCESSES
HOW WILL THE DATA BE ACCESSED AND BY WHOM?
DEFINE YOUR ARCHITECTURE
CLOUD, ON-PREMISES, OR HYBRID
CHOOSE YOUR CONSTRUCTION PARTNERS
THINK BIG, START SMALL, AND ACT SMOOTHLY
The study from BARC shows these top 5 benefits of having a 'Data Empowered' culture. These are the same benefits I have seen in my experience of implementing BI and empowering organizations with data.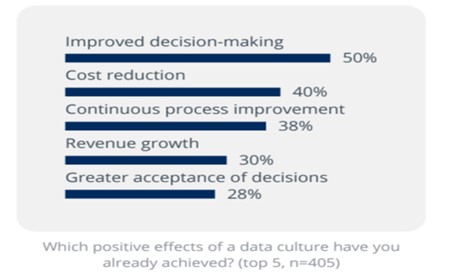 InGenius and Infozone work together to help companies develop and deploy end-to-end data and analytics solutions using various platforms. Contact Infozone for more information.
Jonas Lundgren, President, InGenius