Infozone Intelligence Celebrates 10th Anniversary
Published 28 April 2023/Blog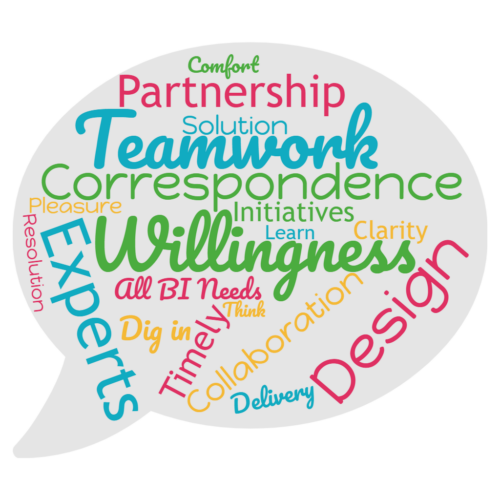 The word-cloud image above shows feedback from our recent customer 360 survey and for the past 10 years Infozone Intelligence has helped clients from a wide range of markets organize and leverage their data to create insights and value.
10th Anniversary
This April marks the 10th anniversary of Infozone Intelligence's operations. The company was established by two Qlik alumni in 2013 when they decided to combine their experiences in Business Intelligence and the Pharmaceutical Industry to offer BI-focused services to pharmaceutical companies. The goal was to build a consulting service company that prioritizes customer satisfaction and uses innovative BI tools to create solutions.
"Working with Infozone gives me a level of comfort that only comes from knowing that I have Qlik experts in my corner as developers."
Business Intelligence today
Business Intelligence is a fast-changing discipline, and the tools are business critical for keeping a competitive edge with the aim of helping people make better business decisions. Infozone Intelligence offers a variety of services with design techniques at the center, which focus on User Experience throughout the entire solution life cycle. Qlik has been a prominent partner and shares the goal of helping companies have the information they need to make the right decisions at the right time. Other strong partners include Vizlib, Microsoft, and TimeXtender. Vizlib adds valuable functionality to customize the insights experience right inside your Qlik application. Microsoft's Power BI is the tool of choice for many companies today to visualize data. To get data analytics-ready, TimeXtender offers a holistic, metadata-driven solution for data integration, empowering a quick build of data solutions.
"A willingness to dig in, learn and provide a great product for our partners is really appreciated. Appreciate the partnership over the years!"
The team
Our consultants play an essential role in our business, both short and long-term. The team's knowledge is our most significant resource and something we value and foster through mentorship and skills development.
"Infozone's team has been great to work with. They respond quickly to all correspondence and are able to help get issues resolved in a timely manner."
Memories
"One of my favorite memories during my time at Infozone was Qonnections 2016. The entire Company was in Orlando and one night we rented out a bar at the hotel and invited our customers, friends, and co-workers. It was a great turnout and I remember feeling so happy to be surrounded by such wonderful people. It also felt like "success" to me. Many of my fondest memories of my time at Infozone revolve around all of us being together. Sharing knowledge, catching up on our personal lives and just enjoying a fun time together. It truly felt like family to me and that is also what I miss most since retiring. – Phil Bishop, Former President and Founder of Infozone Intelligence"
Throughout the last 10 years, the initial goal of supplying the highest level of service to our customers and partners has never changed. To achieve that the culture aims to make all team members feel valued and that they can make a difference in our customers' BI experience.
"They have been great partners. After [the organization change], Infozone has been our source for all BI needs."
A big thank you to everyone who has been part of this journey!