For example, Business Intelligence has become the essence of decision making and gaining insight. Hence, BI applications need to be seamless to reveal discoveries within the data. As new type of data comes in and as business rules and requirements change, it is critical to put recurring testing procedures in place to make sure that user feedback is gathered and put into action. The same reasoning applies to web portals that would require a usability evolution.
Infozone believes that user experience testing is crucial to make your tool effective. Therefore, we have designed a UX audit offer where the focal point is on real user needs. By engaging in a dialogue with users and with our expertise in user UX design, we convert user insights into actionable recommendations. For this purpose, we use SUS (System Usability Satisfaction) survey method to gather user feedback.
What is a SUS survey?
A SUS survey is an industry standard method used to measure usability and learnability of any application. It was originally created by John Brooke in 1986 and is still used as the most reliable and effective way to evaluate system usability. It has 5 benefits and 3 outcomes.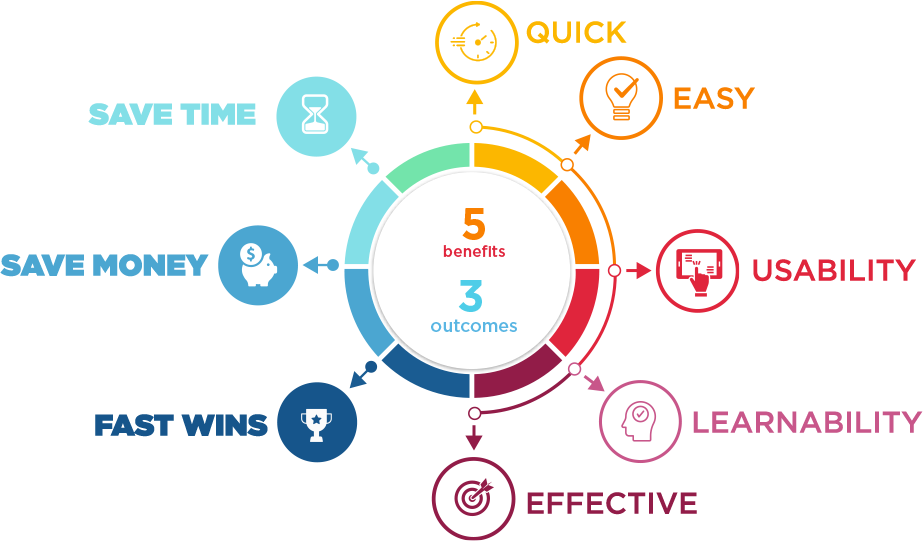 Why SUS and what are the benefits?
In over its 30 years of use, SUS has proven to be more dependable to detect usability problems than any home-grown questionnaire and other commercially available ones. Also, SUS can be used on a smaller sample size which gives equally reliable results as that of a big sample size.
Benefits:
Quickest way to measure usability
Easy to administer participants
A small sample size of 5 users can provide as reliable result as that of 500 users
Effectively differentiate between usable and unusable content
Only 10 objective and 3 subjective questions
10 minutes for participants to complete the survey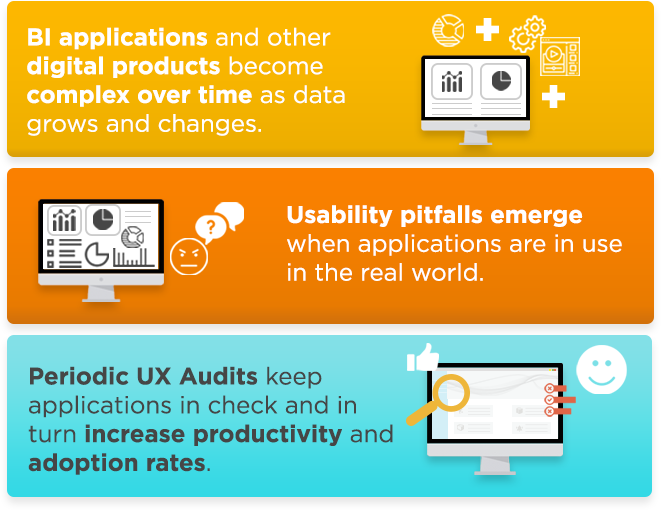 How does the UX audit work?
The Infozone UX audit is a 3-stage process which starts with surveying the application users, analyzing survey results and make actionable recommendations. Following are the detailed steps.
Survey
Discovery Meeting – A kick-off meeting to learn your situation
Set-up – We set up the survey and send it to your users
Timeline – Survey is open for 2 weeks with follow up email to encourage participants to take the survey within the time window
Analyze
Result Generation – 1 week to analyze the survey data
Recommend
Presentation – Present the survey results and provide actionable recommendations based on users' feedback.
Outcome – We focus on a SUS score that your application has earned and what it means. We share highlights of the user feedback and provide recommendations to make spot fixes. We may create mockups of the design recommendations for ease of visualization and development.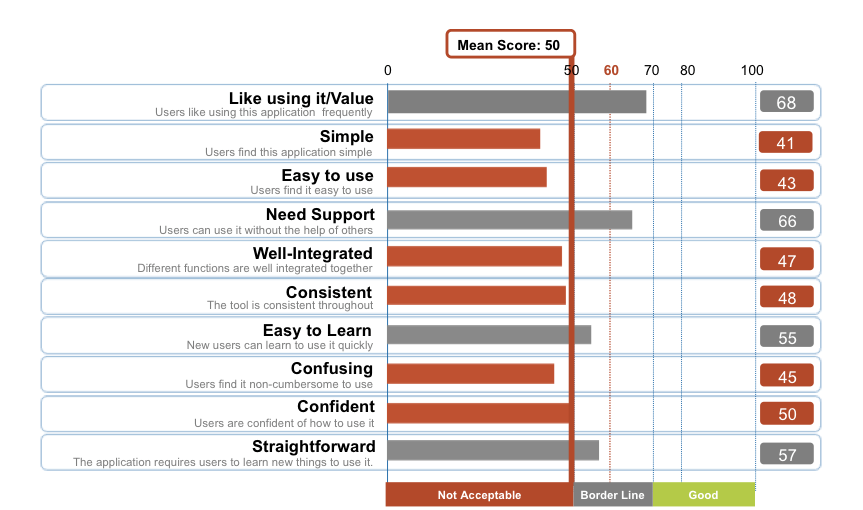 SUS vs Object-Oriented Survey
A SUS survey gives a holistic picture about the application's usability. It is focused on making sure that the user experience is smooth. It differs from an object-oriented survey which is geared towards learning in detail about the usage frequency of the objects within the application such as charts, tables and KPIs. An object-oriented survey is valuable to simplify the applications that might have got complex over time. We can offer a customized object-oriented survey in addition to the SUS Survey. This addition will provide an all-round picture about how well the application is serving the user.
UX Recommendations
With Infozone's longtime experience in data analytics and expertise in User Experience design, we are mindful of selectively translating user feedback into recommendations based on overarching UX guiding principles. We are here to identify usability pitfalls and enhance the quality of the applications. If you have a next phase of your app development in mind, our recommendations will take your new requirements in consideration to ensure your users will be the most productive.
Applications evolve as data and processes evolve. We take User Experience seriously in any application, so let us assist you to keep them in good shape. Contact us to get more information how you can start your UX Audit today!
Email: info@infozoneus.com 
Phone: + 1 855 494 7545

Read our case study on how Takeda Pharmaceutical Co. teamed up with Infozone for a UX Audit on their project management portal.